My renal (kidney) 'story' ...

Read the 'uncut version' of my renal article published in the book "Transforming Lives" by clicking here- this was written days after I had my pre-emptive live kidney transplant on 5th October 2005 whilst still on Ward 206 of the Royal Infirmary of Edinburgh!

(and click here to read Mum's 'uncut version' of her article of what it was like to be a live donor also published in "Transforming Lives")

To read the proper published articles in the book "Transforming Lives", please visit the Legacy of Life website by clicking here.

More info coming soon ... (including what it was like to be treated at the Renal Unit in Raigmore Hospital before my transplant; my time with Edinburgh Royal Infirmary transplant unit during July 2005 - January 2006; and what has happened since my transplant and how I've coped with the rollercoaster ride of being on steroids, anti-rejection and immunosuppressant drugs!)

ALSO... if you are a kidney/renal/transplant patient struggling with your disease/condition and treatment, then please feel free to email me - I might not be able to help but I might be able to find a phone number for somebody who can. I know how lonely and upset you can get trying to cope with renal disease and I desperately searched the internet trying to find somebody else who was going through the same thing as me ... I was lucky in finding an American website created by a very brave strong American lady who wrote down everything that had happened to her and how she felt in the way that she had been treated and how the different medications affected her - basically anything and everything to do with renal failure and transplants - PLUS I have a small but very close family who are always there for me, a fantastic group of friends who know when I need them or when I can help them or we just have a laugh together like all friends do, and importantly, my GP/doctor who listens to me, helps me and even disagrees with the treatment the hospital says when it isn't in my best interest - in other words, he fights my corner when I'm being tossed between one consultant/hospital and another. So, if you've stumbled across my website looking for help email me or try http://www.transplantsupportnetwork.org.uk/ - they have freephone support numbers and they've "been where you are now" - 0800 027 4490 and 0800 027 4491. I just wished I had found their website and phone numbers first when I needed somebody to talk to who would actually listen to me rather than talk at me.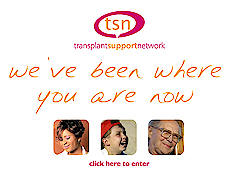 Free telephone support lines
0800 027 4490
0800 027 4491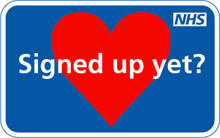 For information about organ donation and transplantation
Organ Donor Line 0845 60 60 400
http://www.uktransplant.org.uk/
NHS UK Transplant saves lives through organ donation and transplantation. It provides a 24-hour service for the matching and allocation of donated organs throughout the UK.
It also maintains the NHS Organ Donor Register, a confidential database which holds the wishes of people who have decided that, after their death, they want to leave a legacy of life for others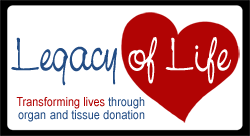 The day will come when my life will cease. When that happens, do not attempt to instill artificial life into my body by the use of a machine. And don't call this my deathbed. Let it be called the Bed of Life, and let my body be taken from it to help others lead fuller lives.
Give my sight to the man who has never seen a sunrise. Give my heart to a person whose own heart has caused endless days of pain.
Give my blood to the teenager who was pulled from the wreckage of his car, so that he might live to see his grandchildren play. Give my kidneys to one who depends on a machine to live. Take my bones, every muscle, every fiber and nerve in my body and find a way to make a crippled child walk.
Explore every corner of my brain. Take my cells and let them grow so that someday a speechless child will shout at the crack of a bat and a deaf person will hear the sound of rain.
Burn what is left of me and scatter my ashes to the winds to help the flowers grow.
If you must bury something, let it be my faults, my weaknesses and all prejudice against my fellow humans.
If by chance you wish to remember me, do it with a kind deed or word to someone who needs you. If you do all I have asked, I will live forever.